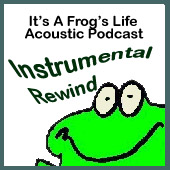 The Instrumental Rewind is an occasional show that features full versions of the instrumental acoustic tracks previously played as bedding music on the It's A Frog's Life Acoustic Podcast.
There is some fantastic instrumental music out there and we think it deserves to be heard.
To view a page featuring only the Instrumental Rewind shows click here.
You can subscribe to just the Instrumental Rewind shows using the links below.