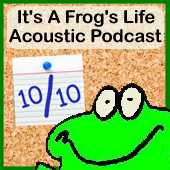 Show 134 – Ten out of ten – marks the tenth anniversary of the very first It's A Frog's Life Acoustic Podcast and I'm celebrating it by doing exactly the same as I've done for the last ten years, playing great independent and unsigned acoustic music from around the world. Amongst the ten tracks (there had to be ten, right?) are a number connected in one way or another with the number ten. Why? Well, why not!
Right-click Show 134 to download
62 mins – 60mb

Show 134 - Ten out of Ten
Play Now
|
Play in Popup
|
Download
1. Ben Blance – Ten Butterflies
facebook.com/benblanceonline
Originally played on Show 8 – Butterflies and Birthdays [27/10/2006]
Ben's new album These Days Will Pass is available to buy here.
2. The Deadly Winters – The Mines of Spennymoor
www.thedeadlywinters.com
Taken from the EP Raise the Coin [Amazon] [iTunes]
3. The Lost Gecko – Ten Ton Souls
facebook.com/TheLostGecko
From the EP Butterfly Bomb, available to buy from [Bandcamp]

4. Tiz McNamara – Steady As You Go
facebook.com/TizMcNamaraMusic
Buy Tiz's music from [iTunes]
5. Daniel Davis – Case Study #017 'Molly The Maid'
facebook.com/danieldavisthemusic
From the album Ghost Hunting (Vol 1 ) . The Strange Case Of Sir Henry James Wilington And The Dybbuk Box, available to buy on [Bandcamp]

6. Bailey Williams – Crows In A Darkroom
baileywilliams.com
Buy the album Infinite Temporarily on a 'name your price' basis from [Bandcamp]

7. Harriet J Woodcock – How To Curse
soundcloud.com/harriet-j-woodcock
Harriet's music is available to download for free (or donation) from the lovely people at Foof Records

8. Ted Z and the Wranglers – Tomorrow
tedzandthewranglers.com
facebook.com/tedzandthewranglers

9. Pedwell – Smoke 1
pedwellmusic.com
facebook.com/Pedwellrock
Taken from the album Get That Thing available from Pedwell's website
10. Circus Envy – Three Score and Ten
facebook.com/circusenvyband
circusenvy.bandcamp.com
Taken from the album Secrets, available from Bandcamp.

BEDDING
Terry Easton – The Kelley Sisters
terryeaston.org
terryeaston.bandcamp.com
Taken from the album Claremont 2:05 P.M. available to buy Bandcamp.
WORTH MENTIONING
Theme tune: Andrew Ellis – Blind Mary
This show is a proud member of the Association of Music Podcasting
WORTH LISTENING TO
Liverpool Acoustic Spotlight
AMPed New Music Weekly
Made In The UK Show
It's A Frog's Life Acoustic Podcast Show 134 – Ten out of ten